As a highly experienced producer of progressive cavity pumps, we can not only provide customers with high-performance PC pumps, but we can also provide you with custom pumping solutions that can handle the mediums that will be pumped in your operation.
1. Subtor introduced progressive cavity pumps and core technologies from Germany. These parts include the stator and universal joint sheath, which can be customized according to customer requirements. We can provide special designs to meet any application needs.
2. The rotor is the core component of progressive cavity pump, whose processing precision directly affect the quality of the products. In order to ensure the reliability of product quality, we imported the rotor processing equipment from Germany: PS1000 multifunction spiral milling machine, with 10,000mm of the maximum machining length, and 300mm of the maximum workpiece diameter. All machined rotors will be measured the section diameter and the maximum projection diameter by using a digital caliper according to the drawing, so as to ensure the rotor machining precision
3. In 2014, Subtor passed ISO9001 quality management system certification, ISO14001 environmental management system certification, and OHSAS18001 occupation health and safety management system cortication. These certifications are necessary to ensure that our production processes are carefully controlled according to relevant standards.
4. We have formulated the "raw material inspection specification", "stator inspection specification" and "finished product pump inspection specification". All products are tested strictly according to the above specifications, ensuring that the leaving factory qualified rate from raw materials to a whole pump reaches 100%. In addition, our company has a whole set of finished product performance test station, which consists of test water tank, connecting pipeline, electric control cabinet, pressure gauge and flow meter etc., for performance experiment and testing of leaving factory products.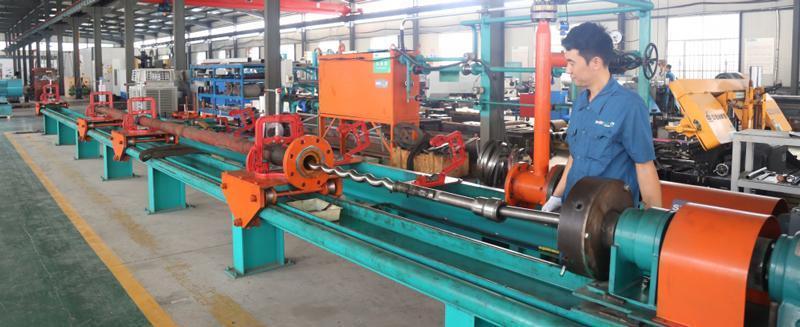 5 We can extract media samples according to the specific working conditions of our customers in order to simulate the working environment and carry out rubber swelling tests in our laboratory. We then select materials and product model so that we can design a preliminary mold connecting rod. After this we can test the stator and rotor. According to the test deviation, the parameters of the connecting rod and rotor will be corrected. They are then reprocessed and retested. Each test is carried out 2-3 times until we are satisfied with the results and begin shipment to the customer.
6. In order to improve wear, corrosion, and temperature resistance, each of Subtor's pump products is coated with our supersonic spraying technology. We have introduced a Japanese six-axis automated robot thermal sprayer to spray a tungsten carbide layer over the rotor. This spray increases the strength of the rotor and features high wear, corrosion, oxidation, and temperature resistance. Compared to electroplating processes, the wear resistance is increased by 4-5 times and corrosion resistance by 5-8 times.